Product Description
About Factory 
With more than 18 years' histiory, we are a professinal manufacturer for drop forged products such as forged chain (X348 X458 X658 X678 X698 F100 F160), scraper chain (10160, 14218, 14226, 142N), conveyor trolley (X348, X458, X678, XT160), and drive chain (X348, X458, X678), and so forth standard moulds of chain. 
Besides, we can also produce as per your drawing or sample, special link chain, pusher, pin and plate, according to customers' unique requirements.
Product Description
1) Material: Alloy steel, 40Cr, 42CrMo and so on.
2) Types: Standard types, X348 X458 X678, and so on. (Or as per your drawing)
3) Process: Moulding→Forging→Polishing & Blasting→Fine machining→Heat treatment→Blasting→Inspecting & testing→Packing
Product Show
 
Technical Data
 
Model
Dimension
Weight (Kg)
Material
Hardness
Working Load (KN)
Limit Load (KN)
P
T
C
S
F
R
D
10160B
101.6
24
36
13
14
6
14
0.32
20CrMnTi
Surface HRC56-64°    
Depth 0.6-1.2mm
18
100
10160
101.6
30
36
13
14.5
9
14
0.36
20CrMnTi
Surface HRC56-64°     Depth 0.6-1.2mm
21.6
120
14218
142
42
50
19
20.5
11
25
1.15
20CrMnTi
Surface HRC56-64°     Depth 0.6-1.2mm
48.6
270
14226
142
62
50
28
30
15
25
1.75
20CrMnTi
Surface HRC56-64°     Depth 0.6-1.2mm
61.2
340
2571
200
66
60
30
32
18
30
2.8
20CrMnTi
Surface HRC56-64°     Depth 0.6-1.2mm
72
400
26014
260
70
75
31
33
20
34
5.2
20CrMnTi
Surface HRC56-64°     Depth 0.6-1.2mm
135
750
142N
142
43
50
19
22
12.5
25
1.2
40Cr
Quench HRC36-44°
75.6
420
150D
142
42
50
19
20.5
11
25
1.15
40Cr
Quench HRC36-44°
75.6
420
MG20
200
70
50
27
29
17
35
3.78
40Cr
Quench HRC36-44°
144
800
MG20B
200
70
50
27
29
17
30
3.82
40Cr
Quench HRC36-44°
140.4
780
MG20C
200
70
50
27
29
17
28
3.85
40Cr
Quench HRC36-44°
122.4
680
MS32
200
42
50
20
22
12
25
1.4
40Cr
Quench HRC36-44°
75.6
420
MS55
200
80
70
35
38
25
28
4.36
40Cr
Quench HRC36-44°
138.6
770
3006
200
65
70
30
33
24
32
3.6
40Cr
Quench HRC36-44°
160.2
890
MS63
250
70
80
30
33
20
32
4.93
40Cr
Quench HRC36-44°
147.6
820
S16
100
30
27
15
16
8
14
0.3
40Cr
Quench HRC36-44°
16
88
S20
125
34
33
17
18
8
17
0.37
40Cr
Quench HRC36-44°
19.4
108
S25
160
48
39
23
25
13
20
1.28
40Cr
Quench HRC36-44°
55.8
310
S30
142
46
49
22
23.5
14
25
1.3
40Cr
Quench HRC36-44°
91.8
510
Z16
100
40
35
18
20
12
17
0.4
40Cr
Quench HRC36-44°
32.4
180
Z20
125
50
46
24
26
15
20
0.67
40Cr
Quench HRC36-44°
59.4
330
Z20D
125
52
60
24
26
16
26
1.15
40Cr
Quench HRC36-44°
82.8
460
Z25
160
58
55
28
30
18
25
2.25
40Cr
Quench HRC36-44°
82.8
460
Z25D
160
66
64
29
31
22
28
2.6
40Cr
Quench HRC36-44°
120.6
670
Z30
142
64
50
29
30.5
18
25
1.8
40Cr
Quench HRC36-44°
111.6
620
Products & Testing Equipments
 
Products Application

Packing & Delivery
 
Why Choose Us?
1. We are engaged in chain industry over 15 years with rich market experience. We keep improving production techniques. All the products have longer working life and have passed the market test.
2. We can design the correct chains with high quality material, good abrasion resistance, good corrosion, high strengthen and etc as per your request or the chain application.
3. We are the chain manufacturer; you can directly purchase the product from us with low price and high quality.
4. We have a professional team for international trade, they have abundant experiences and are always ready to solve problems for customers. So you have nothing to worry about.
5. We have the long-term cooperative forwarder who can give us the lowest freight. And it can help you to save the freight. What's more, for the FCL, we will design the packages as per the container sizes with the largest capacity to save the shipping cost for both of us.
| | |
| --- | --- |
| Standard or Nonstandard: | Standard |
| Application: | Textile Machinery, Garment Machinery, Conveyer Equipment, Packaging Machinery, Electric Cars, Motorcycle, Food Machinery, Mining Equipment, Agricultural Machinery, Coating, Spraying, Mining, Slaughtering, Assembly |
| Surface Treatment: | Polishing |
| Structure: | Combined Chain |
| Material: | Alloy |
| Type: | Cranked Link Chain |
Samples:

US$ 5/Piece

1 Piece(Min.Order)

|
Request Sample
Customization:

Available

|

Customized Request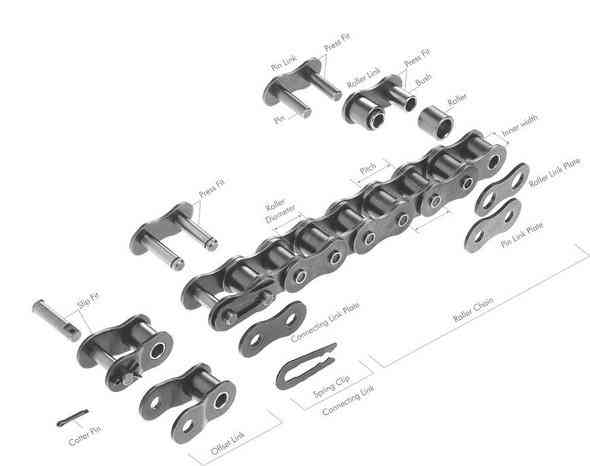 What to look for in a roller chain
There are many different factors to consider when purchasing a roller chain. One of the most important factors is tensile strength, which represents the force required to break the chain. Roller chains are available in three different tensile strengths: minimum, average and ultimate. Each strength reflects a different limit to the load the chain can handle. However, these limits are not always equal and you should be aware of the differences between roller chains.
Canonical chain
Most roller chains have standard sizes printed on the side panels. This is usually "40" or "C2080H", but can also be the letter "B". If the chain is old, it will need to be cleaned to see its size. You can find the size on the standard roller chain size chart, but not everyone is marked. To determine the size, measure the diameter and pitch of the chain, then compare the results to the chart to see what size you need.
Heavy-duty roller chains are available with heat-treated pins, side plates, and rollers. In addition to being heat treated, they are also factory pre-stretched, which reduces wear on these parts. If properly maintained, they can last for years, reducing the risk of failure or corrosion. Depending on the application, standard roller chains are available in different sizes. It can be purchased separately. There are several options to choose from, depending on the size and strength of the application.
PEER roller chains contain solid rollers to reduce shock loads on the sprocket teeth. Heat treating and preloading all components of the PEER chain helps minimize initial elongation. Hot-dip lubrication ensures complete lubrication of all chain components, extending their life and reducing maintenance costs. For heavy-duty applications, ASME/ANSI-B29.1 chain is a good choice.
Standard roller chains are made of steel or alloy steel. However, it can be made of other materials such as stainless steel. In addition to steel, stainless steel is often used in food processing machinery where chain lubrication is an issue. Brass and nylon are also sometimes used. However, they are not that popular. Therefore, you should always check with your supplier before purchasing. By comparing the tensile strength of two different chains and making an informed decision, you can get the best price and service.
Chain without bushing
Bushless roller chains have advantages over conventional roller chains. Unlike conventional chains, bushless chains have extensive lateral flexibility, which increases the chain's lubrication flow. The inner plates of bushless chains have protruding shoulders so the oil can flow through them more easily and efficiently. This is an important characteristic of a smooth-running chain. Additionally, bushless chains may have improved shifting performance.
The strength of a bushingless roller chain is measured in terms of tensile strength and fatigue strength. The former measures the load a chain can withstand before breaking. Fatigue strength is equally important, and factors that affect fatigue strength include the steel used to make the chain components, the pitch hole fabrication, the type of shot peening on the chain, and the design and thickness of the chain. For example, if the chain is too thin, it may not be enough for heavy-duty applications.
Like traditional roller chains, bushingless roller chains have two different types of links. The inner link has two inner plates connected by pins, while the outer chain has two outer plates held together by bushings. A bushingless roller chain is similar to a traditional chain, except it eliminates a step in the assembly process by stamping the tube into the inner plate. So if you want a smoother ride, a bushingless roller chain is a better choice.
There are two different sizes of bushingless roller chains. One size is designed for use with standard single-strand chains, while the other size is designed for use with double-strand or triple-strand chains. Bushless chains are generally shorter than conventional chains, so they can fit in tighter spaces. Bushless chains are made of the highest quality materials. These chain attachments are case hardened for optimum strength and durability.
Mute chain
The silent roller chain has a smooth, low-noise drive. They are made of stacked rows of flat chainplates with a gear-like profile that meshes with the sprocket teeth. Each chainplate is attached to a corresponding sprocket, which also allows the chain to bend. While these basic components are the same for every silent roller chain, there are many variations that allow them to be used in a variety of applications.
The most popular high-speed transmission, silent chains feature gear-like sprockets. They can be made from single or multiple strands of material. Single-strand chains are less expensive than multi-strand chains, but they tend to wear out faster if not lubricated. Single-strand roller chains can be used for years without lubrication, but for your application, wide silent chains are still worth considering.
The design and construction of silent chains make them ideal for conveying a wide variety of products. They have flat, heat-resistant surfaces. They are also durable and non-slip. They are available in a variety of pitch sizes, widths, and mounting styles. Whether you need chains for general purpose conveyors or glass bottle transport applications, we have you covered. Ask about the benefits of silent roller chain conveyors.
Inverted tooth chains are another option for quieter chains. These chains are designed to reduce noise from engine-related friction. Silent chains are more common, and manufacturers have fallen in love with them. A silent chain consists of several links connected to the sprocket teeth. Teeth rotate to reduce noise, vibration, and chord action. These are the main reasons why silent chains are so popular.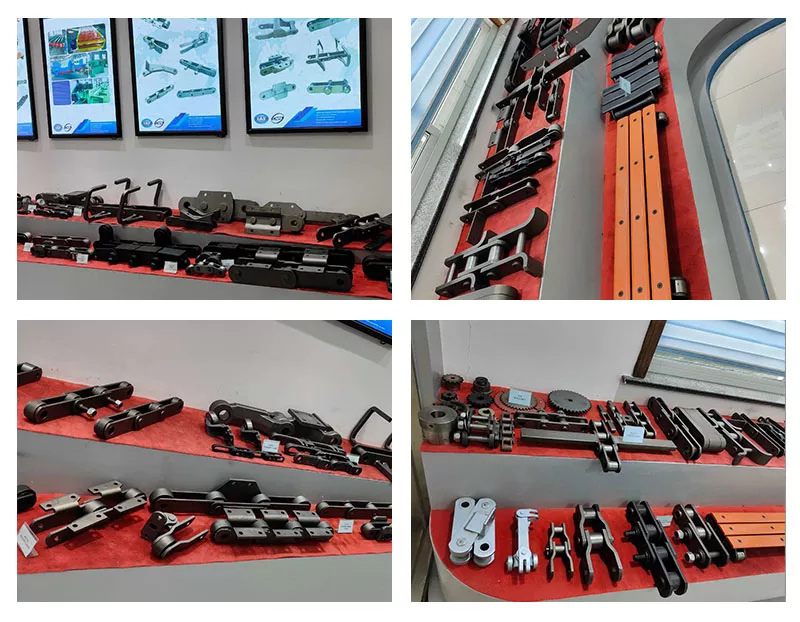 ANSI chain pitch
To measure your bike's chain pitch, you can use a caliper. This measurement is taken from the center of the rolling pin to the center of the next rolling pin. Chains come in many sizes, but ANSI is the most common chain standard in the United States. A caliper is handy if you're not sure which size to buy, as it allows you to check for worn sprockets.
Chains that meet ANSI standards will be characterized by a certain pitch. This measurement is based on the width and spacing of the roll. The spacing is usually greater than the width. The standard number will be the right number for the width of the chain or the left number for the rollers. The number on the left indicates whether the chain is lightweight or heavyweight. Heavyweight chains are designated by the suffix "H".
Common chain sizes are based on ANSI chain pitch. Pitch is the minimum distance between bushing and sprocket. The smaller the chain pitch, the greater the total distance between the two points. This means the chain will last longer. However, if you are buying a chain for a specific application, you should check the pitch carefully as it can affect the performance of the chain.
Roller chain wear measurement
The purpose of roller chain wear measurement is to prevent breakage by monitoring the strain on the chain. There are several ways to measure roller chain wear. The first is to remove the chain from its working position and measure the distance from the sprocket to its measuring end. Another way is to measure the pitch of the chain or the distance between two pins. This method is superior to other methods because it is convenient and accurate.
When measuring the wear of a roller chain, it is important to note that the elements of the chain will gradually deform. About 3.75% of the total wear will be on the pins and the rest will be on the internal links. These wear measurements will vary based on the nominal pitch of the chain and the amount of friction the chain is experiencing. Proper lubrication between pins and bushings, load and frequency of articulation all affect wear rates.
It is important to measure the amount of wear on the roller chain to avoid excessive machine failures. The longer the chain runs, the more wear it will wear. Although the length of the chain should be less than the center distance, the excessive load will cause premature wear. Therefore, lubrication is essential. Additionally, the sag of the chain should not exceed 2% to 4% of its center-to-center distance. Finally, check for unusual noise or visible defects. A common cause of excessive roller chain wear is the size of the load. Every chain manufacturer sets a maximum workload for its product.
There are several ways to measure roller chain wear. If using a high-speed drive, it should have at least 11 teeth, and a medium-speed drive should have at least 25 teeth. Also, be sure to check the length of the chain, even if you should. The same goes for the pin diameter, which should be the same or different pitch as the roller chain.



editor by CX 2023-07-12