Product Description
Leaf chains(hoisting chains)
1. Standards: ISO /DIN /ANSI
2. Model: LH series, LL series, AL series
3. Materials: Carbon steel 40Mn
4. All parts are heat treatment(quenching and tempering) and controlled in a reasonable tolerance range.
5. Tensile strength: 15-20% higher than the standard
6. Certificate of Quality: ISO 9001, SGS, BV
7. Centreless grinding.
8. Good lubrication with excellent grease.
9. Color: Self, dark yellow, dark blue, black
ISO   ISO Chain No.
ANSI ANSI Chain NO. 
Pith
Plate lacing
    plate depth
Plate thickness 
Pin diameter
  Pin    length
UItimate  tensile strength  
Average tensile strength 
Weight per meter
P
 
h2 max
T max
d2 max
L max
Q min
Q0  
q
mm
 
mm
mm
mm 
mm
kN/Ibf
kN
kg/m
LH0822
BL422
12.700
2×2
12.07
2.08
5.09
11.05
22.2/5045
27.6
0.64
LH0823
BL423
2×3
13.16
22.2/5045
27.6
0.80
LH571
BL434
3×4
17.40
33.4/7591
41.4
1.12
LH0844
BL444
4×4
19.51
44.5/10114
56.0
1.28
LH0846
BL446
4×6
23.75
44.5/10114
56.0
1.60
LH0866
BL466
6×6
27.99
66.7/15159
81.7
1.92
LH 0571
BL488
8×8
36.45
89.0/25717
109.4
2.56
LH1571
BL522
15.875
2×2
15.09
2.44
5.96
12.90
33.4/7591
43.1
0.88
LH1571
BL523
2×3
15.37
33.4/7591
43.1
1.10
LH1034
BL534
3×4
20.32
48.9/11114
65.6
1.50
LH1044
BL544
4×4
22.78
66.7/15159
84.5
1.80
LH1046
BL546
4×6
27.74
66.7/15159
84.5
2.20
LH1066
BL566
6×6
32.69
100.1/22750
125.1
2.65
LH1088
BL588
8×8
42.57
133.4/3 0571
169.5
3.50
LH1222
BL622
19.050
2×2
18.11
3.30
7.94
17.37
48.9/11114
63.6
1.45
LH1223
BL623
2×3
20.73
48.9/11114
63.6
1.80
LH1234
BL634
3×4
27.43
75.6/17181
102.8
2.50
LH1244
BL644
4×4
30.78
97.9/22250
120.9
2.90
LH1246
BL646
4×6
37.49
97.9/22250
120.9
3.60
LH1266
BL666
6×6
44.20
146.8/33364
190.8
4.30
LH1288
BL688
8×8
57.61
195.7/44477
238.8
5.80
LH1622
BL822
25.4
2×2
24.13
4.09
9.54
21.34
84.5/19204
108.2
2.20
LH1623
BL823
2×3
25.48
84.5/19204
108.2
2.70
LH1634
BL834
3×4
33.76
129.0/29318
170
3.80
LH1644
BL844
4×4
37.90
169.0/38409
214.6
4.30
LH1646
BL846
4×6
46.18
169.0/38409
214.6
5.40
LH1666
BL866
6×6
54.46
253.6/57636
324.5
6.50
LH1688
BL888
8×8
71.02
338.1/76841
432.7
8.60
Products are made of high quality alloy steel production. The plates are punched and squeezed bores by precision technology. The pin, bush, roller are machined by high-efficiency automatic equipment and automatic grinding equipment, then through heat treatment of carburization, carbon and nitrogen protection mesh belt furnace, surface blasting process etc. Assembled precision by Internal hole position, spin riveted by pressure to ensure the performance of the entire chain.
Specifications
Technique Treatment
1
Shot Peening
8
Quenching
2
Bluing
9
Tempering
3
Phosphate
10
Oiling
4
Nickel-plated
11
Greasing
5
Zincing
12
Special color
6
Heat Treatment
13
Stain proofing
7
Carburizing
14
Pre-stretched and anti-fatigue
Our Services
1. Any of your kind inquiry of chains would be replied within 24 hours.
2. Well-trained and experienced sales staffs will reply all your concerns in fluent English.
3. OEM services are available with us, our professional designer would make your private idea into being.
4. Protection of your sales area, ideas of design and all your private information.
5. Delivery by air mail or ship for your orders.
Why choose us
1. We are the manufacture.
2. We have near 30 years experience of making chains and chain links.
3. Our design team has extensive experience in the chain design.
4. Best service and prompt delivery.
5. We offer various styles, size and colors to meet your requirement.
6. We covering a production area of 18750 square CHINAMFG have more than 100 employees and we have a complete set of testing equipment to ensure our quality.
| | |
| --- | --- |
| Material: | Alloy/Carbon Steel |
| Structure: | Leaf Chain |
| Surface Treatment: | Polishing/Electroplating/Oxygenation |
| Chain Size: | Lh0822,Lh1023,Lh1234… |
| Feature: | Oil Resistant |
| Structure (for Chain): | Roller Chain |
Customization:

Available

|

Customized Request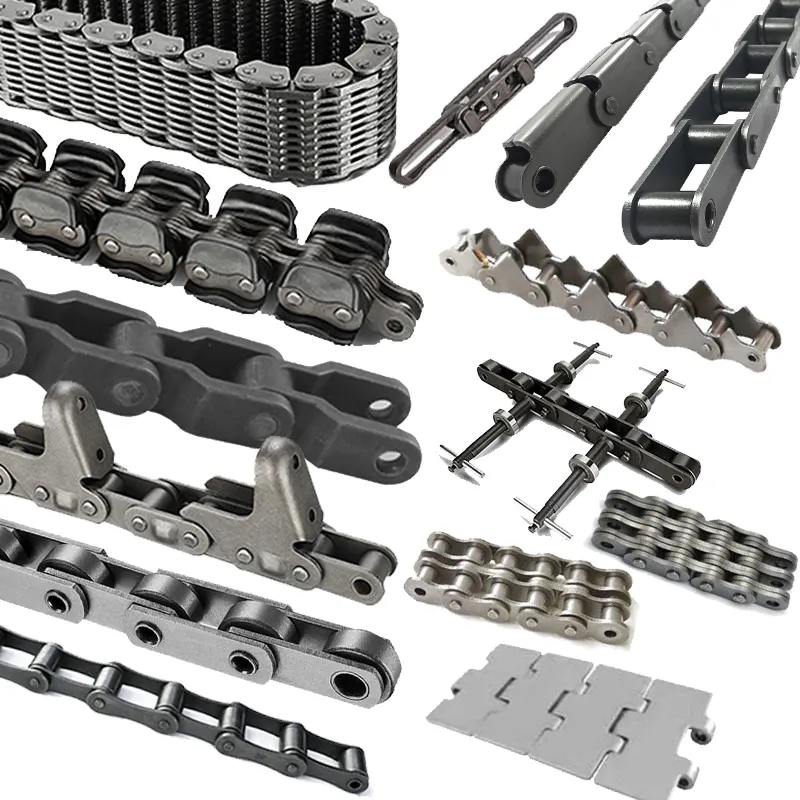 What are the safety considerations when working with leaf chains?
Working with leaf chains involves several important safety considerations to ensure the well-being of personnel and the proper functioning of the lifting equipment. Here are some key safety considerations:
Proper Installation: Leaf chains should be installed correctly according to the manufacturer's guidelines and specifications. Improper installation can lead to chain failure and accidents.
Regular Inspection: Regularly inspecting the leaf chains for signs of wear, damage, or misalignment is essential. Any issues should be addressed promptly to prevent potential hazards.
Load Limits: Adhere to the load limits specified by the chain manufacturer. Overloading the leaf chain can result in excessive stress and may cause it to fail.
Environmental Considerations: Consider the operating environment of the leaf chain, such as temperature, moisture, and chemical exposure. Some environments may require special chain coatings or materials for optimal performance and safety.
Training and Certification: Operators and maintenance personnel should receive proper training in the safe use, inspection, and maintenance of leaf chains. Certification may be required for specific lifting operations.
Chain Lubrication: Proper chain lubrication is essential to reduce friction, wear, and the risk of chain failure. Follow the manufacturer's recommendations for lubrication frequency and type.
Replacement of Worn Components: If any part of the leaf chain shows signs of wear or damage beyond acceptable limits, it should be replaced promptly with the appropriate spare part.
Clear Communication: Maintain clear communication among all personnel involved in the lifting operation to ensure coordinated and safe movements.
Emergency Procedures: Have clear emergency procedures in place in case of chain failure or accidents. This includes emergency stop controls and evacuation plans.
By following these safety considerations and adhering to industry standards and regulations, users can enhance the safety and reliability of working with leaf chains in lifting applications.
Remember that safety is paramount when working with any lifting equipment, and taking a proactive approach to safety can prevent accidents and injuries in the workplace.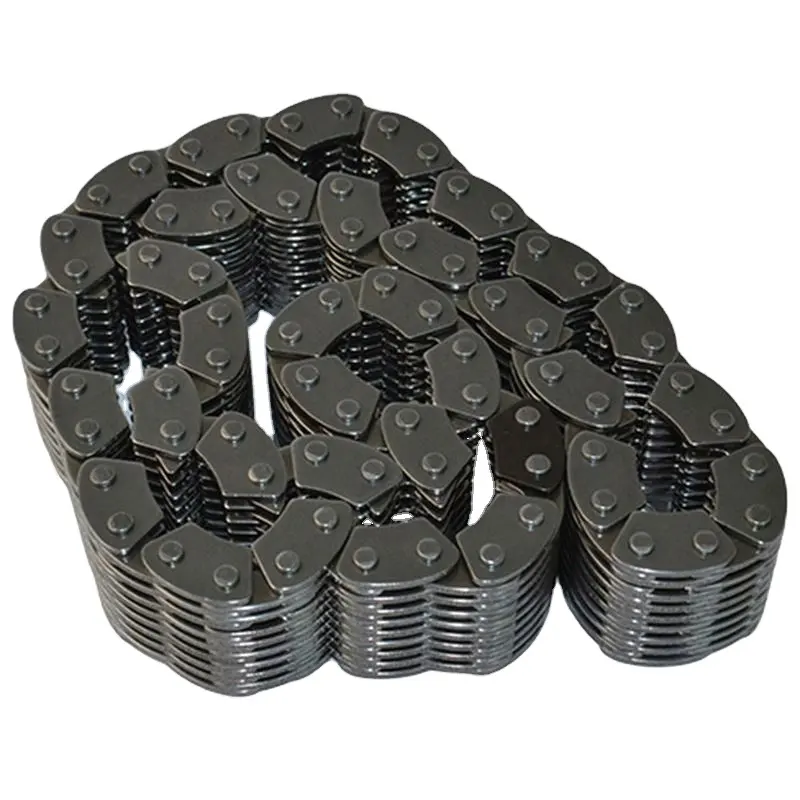 Can leaf chains be used in telescopic cranes and mobile cranes?
Yes, leaf chains can be used in telescopic cranes and mobile cranes for various lifting and hoisting applications. These types of cranes often require robust and reliable lifting components, and leaf chains are well-suited for these demanding tasks.
Here's why leaf chains are suitable for use in telescopic and mobile cranes:
High Strength: Leaf chains are designed to provide high tensile strength, making them capable of handling heavy loads typically encountered in crane operations.
Flexibility: Telescopic cranes require chains that can handle both the extension and retraction of the boom. Leaf chains offer flexibility and can accommodate the varying lengths of the telescopic sections.
Durability: Mobile cranes operate in diverse environments, and leaf chains made from high-quality alloy steel with appropriate surface treatments can withstand harsh conditions and resist wear and tear.
Reliability: Leaf chains are known for their reliability and resistance to fatigue, ensuring smooth and consistent operation during the crane's lifetime.
Cost-Effective: Leaf chains offer a cost-effective solution for heavy-duty lifting applications, making them a preferred choice for many crane manufacturers and operators.
When using leaf chains in telescopic and mobile cranes, proper maintenance and regular inspections are essential to ensure safe and efficient crane operation. Regular lubrication, monitoring for signs of wear, and addressing any issues promptly will help extend the life of the leaf chains and contribute to overall crane safety.
It's important to follow the manufacturer's guidelines and recommendations for the selection, installation, and maintenance of leaf chains in telescopic and mobile crane applications to optimize performance and ensure the safety of crane operators and nearby personnel.



editor by CX 2023-11-20