Product Description
TRANSMISSION ROLLER CHAIN
Feature
.  Long-life duration and high strength
.  Good performance of anti-rusty
.  Pre-stretching and running for each roll before delivery
.  All the chain parts are of complete heat-treatment and controlled within the standarded tolerance
.  Can produce any nonstandarded chain according to the drawing or sample
Production Range
1) A Series Short-Pitch Transmission Precision Roller Chain
25-1R, 35-1R, 40-1R, 50-1R , 60-1R, 80-1R, 100-1R, 120-1R, 140-1R, 160-1R, 180-1R, 200-1R, 240-1R
Double stand, triple strand are available
2). B Serieis Short-Pitch Transmission Precision Roller Chain
05B-1R, 06B-1R, 08B-1R, 10B-1R, 12B-1R, 16B-1R, 20B-1R, 24B-1R, 28B-1R, 32B-1R, 40B-1R, 48B-1R
Double stand, triple stand are available.
3). Short-Pitch Heavy Roller Chain
40H, 50H, 60H, 80H, 100H, 120H, 140H, 160H, 200H
4). Motorcycle Chain
25H, 219H, 420, 420H, 428, 428H, 520, 520H, 530, 530SH, 630
 
OTHER SERIES STEEL CHAIN
1. Conveyor chain: C2040, C2042, C2050, C2052, C2060, C2062, C2060H, C2062H, C2080, C2082, C2080H, C2082H, C2100, C2102, C2100H, C2120H, C2160, C2162, C2160H, C2162H, 
2. Hollow Pin Chain: C2040HP, C2050HP, C2042HP, C2052HP, C2060HP, C2062HP, C2080HP, C2082HP, 40HP, 50HP, 60HP, 80HP
3.  Agricultural Roller Chain: S32, S42, S45, S52, S55, S62, S77, S88, C550, C620, CA550, CA557, CA620
 
4. Welded Steel Cranked Link Mill Chain: W78, W82, W110, W111, W124, W132
5. Leaf Chain: BL622, BL623,BL634, BL644, BL646, BL666, BL688, BL822, BL823, BL834, BL844, BL846, BL866, BLF888, BL1571, BL1034, BL1046, BL1066, BL1222, BL1244, BL1288, BL1422, BL1444, BL1488, BL1622, BL1644, BL1688, BL2571, BL2034, BL2066, BL2088
6. Drop Forged Chain: X348, X458, X678, X689
7.  Chain Coupling: 4012, 4014, 4016, 5014, 5016, 5018, 6018, 6571, 6571, 8018, 8571, 8571, 10571, 12018
 
FAQ
Q1.  Can I have a sample order?
        Yes, any sample order is welcome to know the quality of our products.
Q2.  What about the lead time of the sample or the final order?
        2-5 days for normal sample.
        20-30 days for a formal order.
Q3. How much is the minimum quantity for each item in 1 order?
       Any quantity is ok to run.
Q4. Is it possible to print our logo or brand on the belt?
       Yes, we can print your logo or design on the belt after receipt of your formal authorization  letter of the logo or your brand.
Q5. Do you offer the guarantee for your product?
       Yes, usually we offer 1 year warranty for all of our products.
| | |
| --- | --- |
| Standard or Nonstandard: | Standard |
| Application: | Textile Machinery, Conveyer Equipment, Motorcycle, Food Machinery, Mining Equipment, Agricultural Machinery |
| Surface Treatment: | Polishing |
| Structure: | Roller Chain |
| Material: | Carbon Steel |
| Type: | Short Pitch Chain |
Samples:

US$ 0/Piece

1 Piece(Min.Order)

|
Request Sample
Customization:

Available

|

Customized Request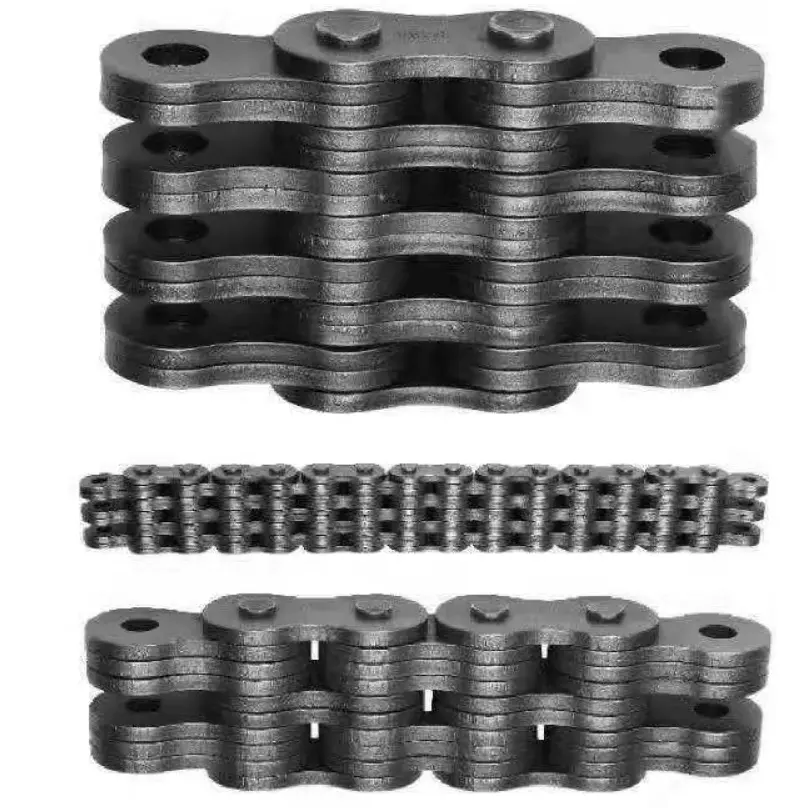 How do leaf chains perform in high-speed lifting operations?
Leaf chains are generally not recommended for high-speed lifting operations due to their design and construction. While leaf chains excel in heavy-duty and slow-speed applications, they may encounter challenges when used in high-speed lifting scenarios. Here are some factors to consider:
Flexibility: Leaf chains consist of interconnected links with little flexibility between them. At high speeds, this lack of flexibility can lead to increased vibration and stress on the chain, potentially causing premature wear and fatigue.
Dynamic Loading: High-speed lifting involves rapid changes in load and direction. Leaf chains may not handle dynamic loading as well as other chain types, which could compromise the safety and reliability of the lifting operation.
Wear and Heat: The higher the speed, the more friction and heat are generated within the chain. This can accelerate wear and reduce the chain's lifespan, leading to more frequent maintenance and replacement.
Alternate Options: For high-speed lifting applications, roller chains or other types of high-speed lifting chains are more commonly used. Roller chains have better flexibility and are specifically designed to handle dynamic loading and high-speed operations.
It's essential to carefully consider the specific requirements of the lifting operation and consult with chain manufacturers or lifting equipment experts to choose the most appropriate chain type. While leaf chains are reliable and robust for many lifting tasks, high-speed lifting is one area where alternative chain types may be more suitable for optimal performance and safety.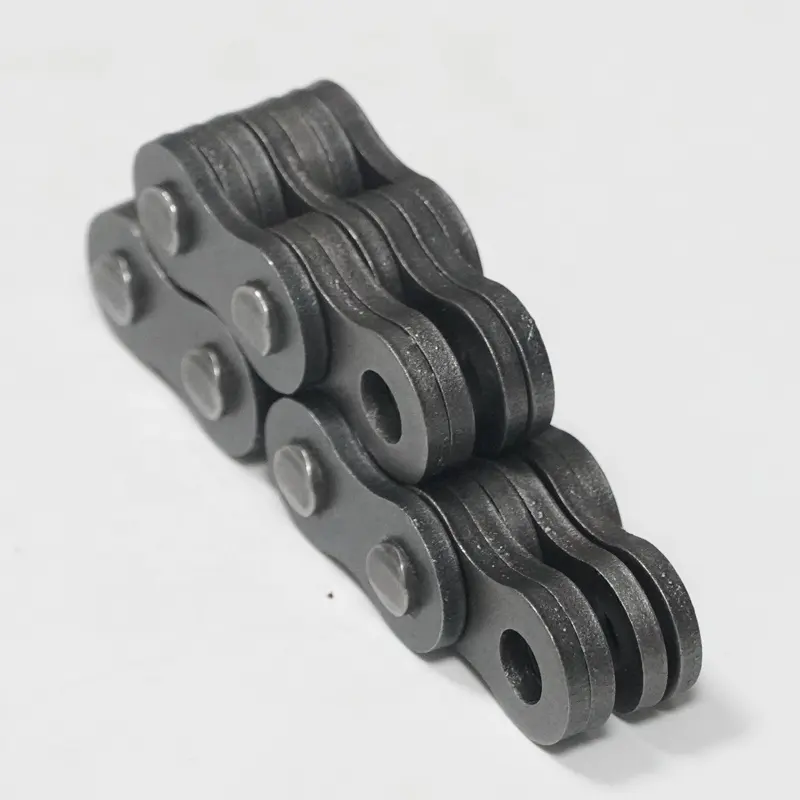 What are the benefits of using a leaf chain in dock levelers and loading ramps?
Using a leaf chain in dock levelers and loading ramps offers several advantages, making them an excellent choice for these applications. Dock levelers and loading ramps are critical components in material handling, facilitating the smooth and safe transfer of goods between different heights, such as between trucks and loading docks or warehouse floors.
Here are the benefits of using a leaf chain in dock levelers and loading ramps:
High Load Capacity: Leaf chains are known for their high tensile strength and load-carrying capacity, making them suitable for handling heavy loads typically encountered in loading and unloading operations.
Smooth and Reliable Operation: Leaf chains provide smooth and consistent lifting and lowering movements, ensuring a reliable and controlled transfer of goods.
Durability: Dock levelers and loading ramps are subject to frequent and heavy usage. Leaf chains' robust construction and resistance to wear and fatigue ensure a long service life with minimal maintenance.
Compact Design: Leaf chains offer a compact and space-efficient solution for material handling applications, which is particularly important in confined loading dock areas.
Adjustability: Leaf chains can be easily adjusted to accommodate different heights, allowing for versatile use in various loading and unloading scenarios.
Dock levelers and loading ramps require precise and secure handling to prevent accidents and ensure the smooth flow of goods. Leaf chains provide the necessary strength, reliability, and control needed for these critical material handling applications.
When designing and selecting leaf chains for dock levelers and loading ramps, factors such as load capacity, chain length, and environmental conditions should be carefully considered to ensure optimal performance and safety.



editor by CX 2023-11-10