Product Description
Product Description
1. Leaf chain conform to ISO, BS, JS and other standards
2. Mainly BL, AL, LL, FL series leaf chain
3. Our leaf chain customization service can be provided according to customer requirements
4. The leaf chain is made of high quality material and heat treatment technology.
5. The products are widely used in forklifts, textile machinery, drilling rigs, etc. to achieve vertical lifting, horizontal traction and other uses.
Available materials
1,Stainless steel: stainless steel 304, 316, etc.
2. Alloy steel: 45 Mn, 42 CrMo, 20CrMo, etc.
OEM according to your requirements
Surface treatment: polished, galvanized, nickel-plated, etc.
Design standard: ISO DIN ANSI according to customer's drawing requirement
Certificate: ISO9001:2008
Leaf chain structure
Leaf chain consists of chain plate and pin only. The chain plates are connected by pins to carry the tension on the chain plates. The outer chain plate is overfitted with the pin and the pin is riveted.
The inner chain plate, middle chain plate and pin are sliding fit.
Scope of Application
The plate chain is widely used in forklift, textile machinery, traction, tensioning chain, etc.
Product Attribute
Usage

Leaf Chain ,Flyer chain
 

Material

Alloy/Carbon Steel
 

Application industry
Metallurgy, coal, electricity, food, chemical industry, tobacco, beverage, etc
 

Surface Treatment

Self-color Sand-blasted Shot-peening
 
Product Series

 

AL,BL ,LL,FL,LH

Port

Any sea port or airport in China
 

Brand
TV OEM
Payment

L/C, T/T, D/P, Western Union
 

Package

Chain, Plastic Bag, Color Box, Wooden Case. or OEM
 

AL Series

AL322,AL344,AL422,AL444,AL466,AL522,AL534,AL544,AL566,AL622,AL644,AL666,AL688

AL822,AL844,AL866,AL888,AL1571,AL1044,AL1066,AL1088,AL1222,AL1244,AL1266,AL1288

AL1444,AL1466,AL1644,AL1666,AL1688
 

BL Series
BL422,BL423,BL434,BL444,BL446,BL488,BL522,BL523,BL534,BL544,BL546,BL566,BL588

BL622,BL623,BL634,BL644,BL646,BL688,BL822,BL823,BL834,BL844,BL846,BL866,BL888

BL1571,BL1571,BL1034,BL1044,BL1046,BL1088,BL1222,BL1223,BL1234,BL1244,BL1246

BL1266,BL1288,BL1422,BL1423,BL1434,BL1444,BL1446,BL1488,BL1622,BL1623,BL1634

BL1644,BL1646,BL1666,BL1888,BL2571,BL2571,BL2034,BL2044,BL2046,BL2088
 

LL Series
LL0622,LL0644,LL0666,LL0822,LL0844,LL0866,LL 0571 ,LL1571,LL1044,LL1066,LL1088,LL1222

LL1244,LL1266,LL1288,LL1622,LL1644,LL1666,LL1688,LL2571,LL2044,LL2066,LL2088,LL2422

LL2444,LL2466,LL2488,LL2822,LL2844,LL2866,LL2888,LL3222,LL3244,LL3266,LL3288,LL4571

LL4044,LL4066,LL4088,LL4822,LL4844,LL4866,LL4888
 

LH Series
LH0822,LH0823,LH571,LH0844,LH0846,LH0866,LH 0571 ,LH1571,LH1571,LH1034,LH1044

LH1046,LH1066,LH1088,LH1222,LH1223,LH1234,LH1244,LH1246,LH1266,LH1288,LH1622

LH1623,LH1634,LH1644,LH1646,LH1666,LH1688,LH2571,LH2571,LH2034,LH2044,LH2046

LH2066,LH2088,LH2422,LH2423,LH2434,LH2444,LH2446,LH2466,LH2488,LH2822,LH2823

LH2834,LH2844,LH2846,LH2866,LH2888,LH3222,LH3223,LH3234,LH3244,LH3246,LH3266

LH3288,LH4571,LH4571,LH4034,LH4044,LH4046,LH4066,LH4088
 

FL Series
FL644,FL666,FL688,FL523,FL844,FL922,FL944,FL945,FL956,FL966,FL988
 
We also carry out OEM according to your requirements
 
Detailed Photos
Product Parameters
Our Advantages
Company Advantages:
Own Import & Export License, The TV trade mark registered successfully in many countries, Sales network spread all over China, Products export to 65 countries in 5 continents.
Membership:
1. The member of China General Machine Components Industry Association.
2. The member of China Chain Transmission Association.
3. The member of China Chain Standardization Association.
4. The member of China Agricultural Association Machinery Manufacturers.
With our excellent trained staffs and workers, advanced and efficient equipments, completely sales network, strict QA systems. You are confidence that our premium qualified chain can meet all customers' specification and strictest quality standards.
Please do not hesitate to contact us for more information on how TransVision products can meet your industries demands at highly competitive pricing.
Quality First, Clients Uppermost.
Product Categories
Comprehensive Product Portfolio We produce and supply a wide range of power transmission
products including drive chains, leaf chains, conveyor chains, agricultural chains, sprockets, and
couplings. This one-store-for-all shopping experience will significantly reduce your searching costs while
guarantee youfind what you want at 1 click.
Value Choice Products Our products are the best combination of quality and price, and you get what
you want within your budgets
Seasoned Sales Associates and Engineers We have 15 seasoned sales associates and 5 engineers;
on our team at your disposal any time when you need a helping hand. They are well trained with industry
know-now and will always respond to your requests within 24 hours.
100% Customer Retention Rate Our regular customers from overseas come back not just for our
premium quality products, but for the superior services that we've provided over the years.
FAQ
Q1: What's your average lead time?
A: It varies. Our regular end-to-end lead time is 1-2 months.. We also provide express shipments for rush orders. For details,please consult our sales associate.

Q2: Is your price better than your competitors given the same quality?
A: Definitely YES. We provide the most competitive price in the power transmission industry. If price disparity exists, we'll be more than happy to do a price match.
Q3: Can you make chains according to my CAD drawings?
A: Yes. Besides the regular standard chains, we produce non-standard and custom-design products to meet the specific technical requirements. In reality, a sizable portion of our production capacity is assigned to make non-standard products.

Q4: Can we inspect the goods before shipment?
A: Yes. You or your representative or any third-party inspection party assigned is allowed access to our facility and do the inspection.

Q5: What kind of payment method is acceptable for your mill?
A: We're flexible. We take T/T, L/C, or any other online payment methods so long as it's applicable for you.

Q6: What if I have any other questions?
A: Whenever in doubt, you're always encouraged to consult our sales associate any time – They will help you to your satisfaction.
 
Shipping Cost:

Estimated freight per unit.





To be negotiated
| | |
| --- | --- |
| Usage: | Transmission Chain, Conveyor Chain |
| Material: | Alloy |
| Surface Treatment: | Electroplating |
Samples:

US$ 2/Piece

1 Piece(Min.Order)

|

Order Sample
Customization:

Available

|

Customized Request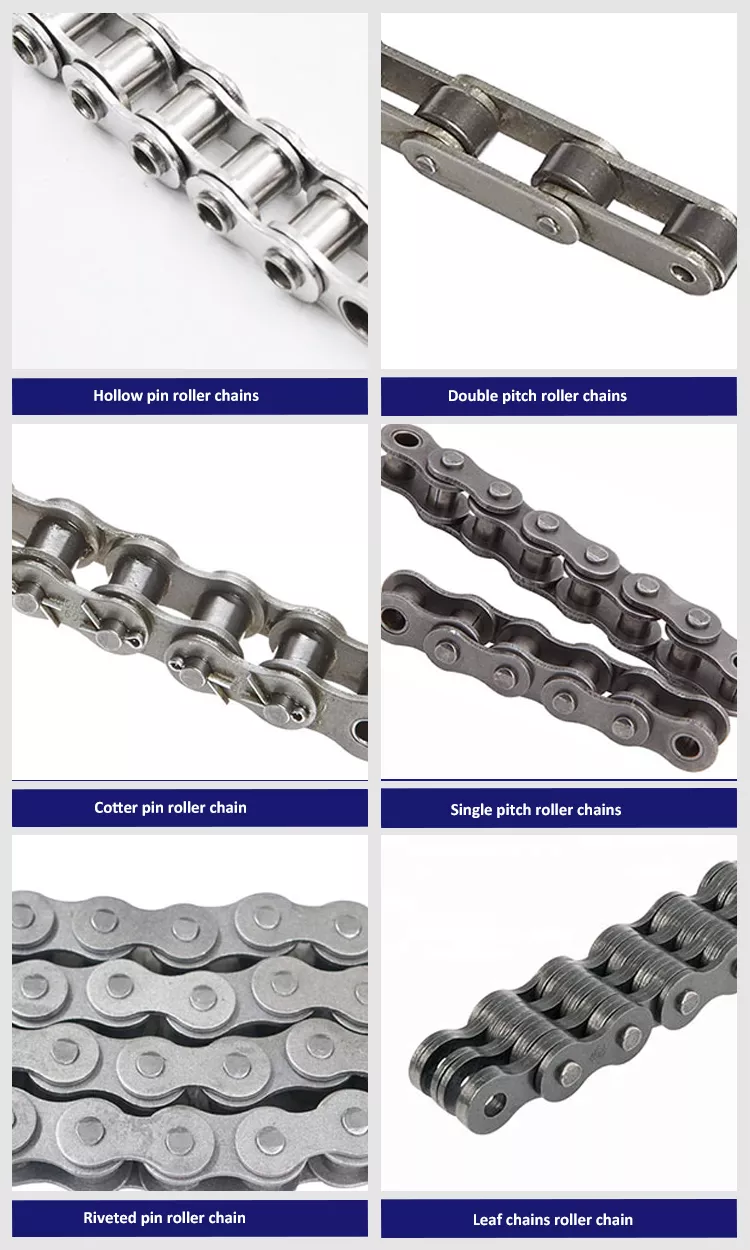 How to choose a roller chain for a conveyor
When choosing a roller chain for your conveyor, the easiest way is to refer to the horsepower and RPM charts. The horsepower and rpm of the small drive sprocket will determine the size and number of teeth of the chain. Conveyor chains are available in a variety of options, including moving products horizontally, vertically, or around a bend radius. When choosing a conveyor chain, consider the purpose of the chain. For example, if you're delivering products to customers' doorsteps, you might choose chains that can move products up and down a hallway or warehouse.
Double pitch
Double pitch roller chains are a popular way to drive agricultural equipment. It has twice the pitch of a standard roller chain and is ideal for light-duty drives. Extended pitch increases performance at lower speeds, but requires fewer components per foot than standard single-pitch chains. Compared to single-pitch roller chains, double-pitch chainplates are longer and are suitable for lighter loads. Read on to learn more about double pitch chains and how they can improve your operation.
The most common type of conveyor chain is double pitch. It is used in the auto parts industry, as well as in the precision machinery industry. It is made from the same components as the standard drive roller chain, except it has longer side plates. Double pitch chains are often used on slow-moving conveyors to reduce the stress placed on them. Industries that commonly use double pitch conveyor chains include airport equipment manufacturers, lumber mills, and fruit packing plants.
RS series roller chains are manufactured from high-quality stainless steel. It has excellent chemical and abrasion resistance and is available in a variety of cord lengths. RS sprockets have over 30 teeth. They contain all the necessary connection links for easy installation. PEER Chain offers double pitch roller chain attachments including pre-stretched chains, sprockets, and other attachments.
Double pitch roller chains have several advantages over standard chains. Double pitch chains have double the pitch, making them ideal for conveying applications such as conveyors. In addition to that, it also provides ANSI-compliant styles. These chains also have free connection links. When shopping for a double pitch roller chain, be sure to choose the one that fits your requirements and budget. They will last longer and save you money in the long run.
Double pitch roller chains to ANSI standards feature oversized rollers. These chains are best suited for applications where the product is mounted on top of the chain. They are ideal for agricultural applications where cotton is on top of the drum. Also, this type of chain is used in light-duty conveyors and agricultural applications. You can find double pitch roller chains in a variety of sizes and styles. And, as long as you know what you want, you'll be happy with the results.
Self-lubricating
Self-lubricating roller chains eliminate the need for manual relubrication, providing long-lasting operation and reducing maintenance costs. These chains are particularly popular in industries such as the food and beverage industry, textiles, printing, and sawmills. They can also replace standard roller chain drives and conveyor chains. Manufactured to the specific standard ISO R606, these chains are ideal replacements for conventional chains. PC chains are particularly beneficial for food and beverage production and packaging applications due to their anti-corrosion properties.
Self-lubricating roller chains meet ISO, ASME/ANSI, and DIN standards. They are interchangeable with standard chains of the same size and shape and can be used in a variety of industrial applications. Self-lubricating chains have special oil-impregnated sleeves to reduce maintenance time. These chains are also suitable for applications where cleanliness is an issue.
Self-lubricating roller chains are manufactured with unique RS attachments. Rather than a traditional roller chain with an external lubricating ring, this type of chain retains the lubricant within its bushings. During operation, the application generates heat, heating the lubricant, which flows out of the pin and bushing area. Therefore, CZPT roller chains are ideal for certain food conveying applications.
In addition to self-lubricating roller chains, carbon steel, stainless steel or nickel-plated steel are also available. Self-lubricating roller chains are available in different sizes depending on the application, including 0.375″ wide profile straight-chain, extended pin chain, and four-link. In addition, these chains are also available in ANSI and BS chain specifications.
Accumulation
Whether you need to move large or small loads, accumulating roller chains are a viable solution. This chain conveyor is designed with low back pressure to transport large and bulky items with minimal noise. Free-running rollers within the chain help create a smooth build-up surface. These chains are available in a variety of options, including accumulating rollers of different pitches.
The accumulation and release roller chain 14 includes an upper part 15 and a lower part 16. The upper part 15 rests in the upper subspace 28, while the lower part 16 rests on the top side 20 of the profile. As the upper belt 15 rolls around the accumulation roller chain 14, it aligns with the lower chain 16 to form a continuous receiving space. This arrangement allows the accumulation roller chain 14 to rest on the top surface of the support profile 11.
A cumulative roller chain consists of many individual parts. Each section of the chain has an elongated cylindrical shape and is connected to each other by hinged joints. Each chain section also has an accumulation and release roller associated therewith. Each roller protrudes from the upper side 20 and the lower side 21 of the chain portion. The accumulation rollers are movable about an axis 22 extending transversely to the longitudinal axis of the chain.
A feature of the stacking and releasing roller chain is its simplicity. The conveyor has a profiled section that is permanently divided into two cross-sectional spaces. The bottom space is closed from all sides. The upper space accommodates the conveyor line. The contoured portion includes an opening that guides the bottom strap. A shunt can also be inserted between the two sections. The accumulating roller chain system is a convenient and versatile way to move bulky items.
There are many different types of accumulating roller chains. Some chains have offset rollers for optimal load distribution. Others have protection to prevent machine wear. Some run without lubricant, which is a safety advantage. In addition to protection, cumulative chains can also provide protection. The side bow version of the accumulation and release roller chain with offset accumulation and release rollers is designed for conveyor systems with very small bend radii.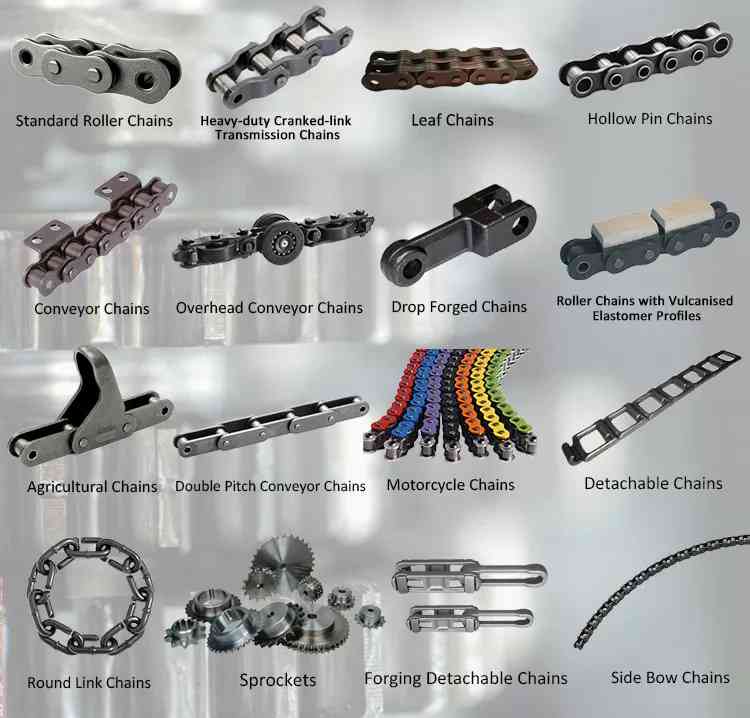 Without bushing
Bushless roller chains are the most common type of industrial chain. They are simple in design and require only regular maintenance. Regular maintenance includes lubricating, assessing wear, and replacing worn sprockets. For more information, please read the following information:
The outer chainplates and the inner chain plates are alternately arranged in pairs. The connecting pin extends through the hole in the inner link plate. The rollers thus positioned can be rotated on the connecting pins. Oil provided between the outer circumferential surfaces of each connecting pin serves to lubricate the chain. This system reduces noise and wears caused by collisions between inner chain plates and sprockets.
Compared to traditional roller chains, bushings roller chains have rollers around the bushing. These rollers are in rolling contact with the sprocket teeth, providing low friction and excellent wear resistance. To ensure smooth operation, bushings roller chains must be greased to prevent rust and keep the chain properly tensioned. Lubricated chains run smoother and last longer.
In a bushingless chain, the inner links are shaped like half bushings and ride on the rollers. The pins go through the outer plate and connect the inner links to the rollers. The outer plates overlap the inner links and open the pins. This system is also known as a heterochain. This type of chain is more common than traditional roller chains. If you are not sure which type of bushingless roller chain to choose, you may need to purchase an additional pair of inner chainplates.
Linerless roller chains may also include chain guides. In a bushingless roller chain, the outer and inner link plates conform to the surfaces of the guide rails. Thus, the large area of contact between the chain and the guide rail is eliminated, the friction loss is reduced, and the power transmission efficiency is improved. These properties make bushless roller chains more efficient and durable than traditional roller chains. It's also less noisy. If you are looking for a chain with a lower noise level, a bushingless roller chain may be the right choice for you.



editor by CX 2023-04-21